How very civilised
If there was one thing about which the Bad Girls Book Club agreed in 2020 it was this: We adore Amor Towles.
After one of us discovered and bigged up his 2016 novel A Gentleman in Moscow, most of us read and loved it.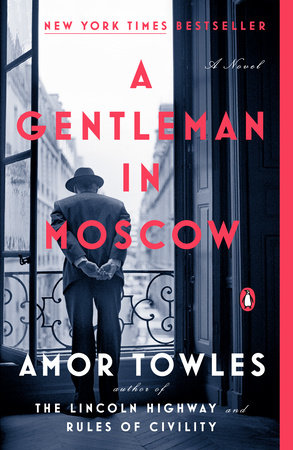 It is the story of Count Alexander Ilyich Rostov, a courtly gentleman who returns to Moscow from Paris in 1922 to take up residence in suite 312 of the very grand Metropol Hotel. From there he is escorted to his "trial", where he is declared a "former person" for the crime of writing a poem. Only his status as a pre-revolutionary war hero saves him from a bullet in the head. Instead he is to be confined at the Metropol, shifted from his suite to an attic room, where he is to remain for the rest of his life. If he sets foot outside the hotel, he will be shot.
And so he remains for decades, eventually taking a job as a waiter in the hotel restaurant. It is an utterly charming novel. (If you want a proper review, try this one.)
As one Bad Girl reported: "I loved absolutely every word of this novel. It's not often I finish a book, close it and kiss the cover before putting it down, but I kissed this one. I can't remember the last time I did this. Quite possibly I never have. That's how much I loved this novel."
Hardly a surprise that Rules of Civility, the debut novel by Mr Towles, was chosen as the official read for a later month.

The year is 1938, the place is Manhattan. Young Katey has relocated from Brooklyn to a women's boarding house where she shares a room with Evie, a beautiful blonde Midwesterner. On New Year's Eve they set off for a downtown club with enough money between them for one martini an hour. There they meet the wealthy Tinker whose appearance in their lives changes everything. Tinker and Evie are doomed individuals, but Katey (whose 30-year-old memories of that night begin the story) is made of sterner stuff.
Female protagonists created by male authors often don't ring quite true for female readers. Not so the delightful Katey. We all loved her completely. Another utterly charming novel.
If there is a recurring theme in the two novels it is simply this: courtesy costs nothing.
This is something we could all do with remembering in these fractious and troubling times. (Yes, we're looking at you, anti-maskers.)
If you agree with the theme and enjoy Rules of Civility, you absolutely must introduce yourself to another courteous dame: Lillian Boxfish.
Catherine Rooney's novel Lillian Boxfish Takes a Walk begins in Manhattan on another New Year's Eve.
As described perfectly by the avid reader who introduced us to the novel: "New Year's Eve 1984, Lillian Boxfish, as old as the century if she takes a year off her age (as she has always done), once the highest paid woman in advertising and best-selling writer of humorous poetry that no one reads anymore, takes a 10 mile walk around Manhattan. It's a walk through her life, and the life of the city, and she's a great guide, interested in everything and everyone she meets. The character is based on the real-life once-highest-paid-woman-in-advertising, Margaret Fishback, and all the witty little poems and ads in the book are hers. Highly recommended."
There's a reason why Dr Bonnie Henry's advice always began with "Be kind."